FAQs
Main Content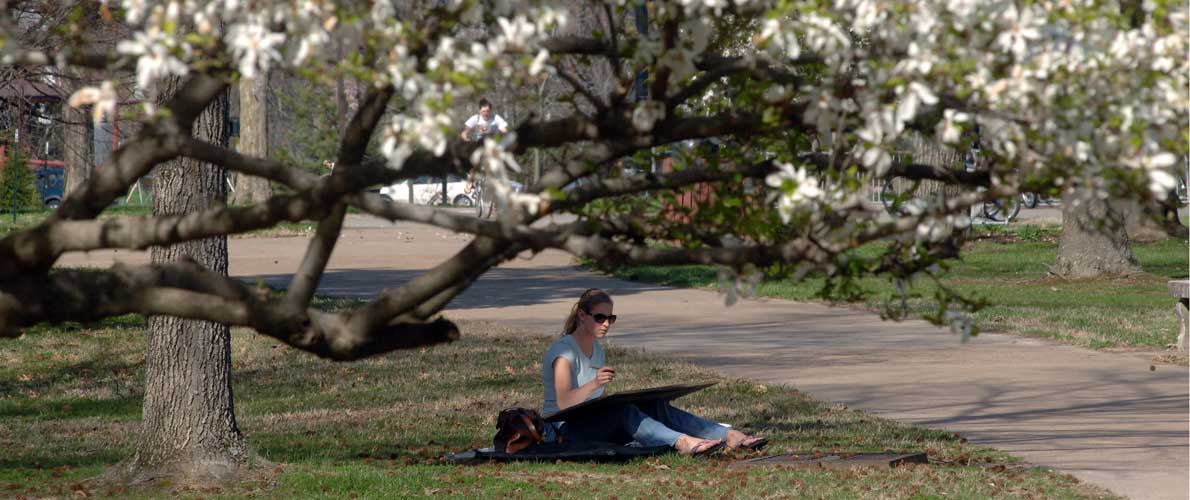 Why has SIU Carbondale implemented a smoke-free policy?
The State of Illinois passed the Illinois Smoke Free Campus Act, requiring all public universities become smoke free effective July 1, 2015.
The university had already been planning to go smoke-free even before doing so was legislated in the interest of ensuring a safe and healthy working and learning environment for employees, students and guests.  According to national data collected from the Americans for Nonsmokers' Rights, nearly 1,200 college or university campuses in the U.S. have adopted 100 percent smoke-free campus policies.
What is SIU Carbondale's smoke-free policy?
Southern Illinois University Carbondale, in compliance with the Illinois Smoke Free Campus Act, prohibits smoking on all property, including buildings, grounds, parking lots and vehicles that are owned or operated by SIU Carbondale. 
The policy became effective July 1, 2015. "Smoke" or "smoking" means the carrying, smoking, burning, inhaling or exhaling of any kind of lighted pipe, cigar, cigarette, hookah, weed, herbs or other lighted smoking equipment.
Who is affected by the policy?
All university employees, students and visitors to campus, including contractors and contract employees, volunteers, service representatives, patients and physicians, must abide by the policy. In other words, it applies to everyone who comes to campus.
Where can I smoke on the SIU Carbondale campus?
Smoking is prohibited on all university grounds.  
What are the campus boundaries?
Does this policy apply to city owned streets, sidewalks and right-of-ways?
No. Southern Illinois University has no jurisdiction over the use of city owned streets, sidewalks and right-of-ways. However, we encourage students, staff and guests to be considerate of our neighbors immediately adjacent to campus.
May I smoke in my personal car?
Smoking will be allowed within personal vehicles while parked or traveling on campus.
Are parking lots smoke-free as well?
Yes. Campus parking lots are considered university grounds, so smoking is prohibited.  Smoking is allowed within personal vehicles while parked or traveling on campus. 
Can university vehicles be used to travel off of university property to go on break and smoke off campus?
No. University vehicles are to be used for business purposes only; using a university vehicle solely for the purpose of going off campus to smoke without a legitimate business purpose is prohibited. In addition, smoking is prohibited in university vehicles.
Is smoking allowed in student housing?
No. Smoking is not allowed in any university residence hall or apartment.
Can a smoker use e-cigarettes or tobacco-free cigarettes?
No. E-cigarettes are not allowed under university or state policy.  
Can visitors smoke on our campus?
No. Visitors may not smoke on SIU Carbondale -owned, -operated or -leased property.
How will people know that the SIU Carbondale is a smoke-free campus?
Signage indicating that the university is a smoke-free campus is posted at key points across campus.
How is the smoke-free policy being enforced?
The success of this policy relies on the thoughtfulness, consideration and cooperation of smokers and nonsmokers. All members of the university community share responsibility for adhering to and enforcing the policy and for bringing it to the attention of visitors. Any complaints should be brought to the attention of the appropriate university authorities. If conflicts or problems should arise, environmental, safety and health considerations will prevail.
The university's focus is on education and awareness. Posters, signage, notices in event programs and advertising will all contribute to awareness of the expectation of no smoking on campus. An explanation of the smoke-free campus will be included in the orientation program for new employees and in materials distributed to all outside groups that use university facilities.
What happens if a visitor violates the tobacco policy?
Visitors are expected to adhere to the Illinois State Law, enacted July 1, 2015. We expect visitors to the campus to comply with the Illinois Smoke-Free Campus Act. The penalty could include but may not be limited to fines.
What are the consequences for students, faculty and staff who violate the SIU Carbondale policy?
Students may be subject to disciplinary actions under the Student Conduct Code, and faculty and staff may be subject to progressive disciplinary action for violation of university policy.
What should I do if I see someone smoking on campus?
You may courteously and tactfully approach individuals who are smoking and say: "For the health of our visitors, students and employees, and in compliance with Illinois State Law, smoking is not allowed on our campus. Thank you for complying." Then, walk away. If the person continues to use tobacco products on campus, please report the incident to the Department of Public Safety.
How should managers and supervisors talk with employees about the policy?
Managers and supervisors are encouraged to inform employees of this policy in writing and in person.
What should managers and supervisors do if an employee violates the policy?
Violations to campus policy should be referred to the appropriate administrative office (Labor and Employee Relations, the Dean of Students, the Vice Chancellor for Administration and Finance or the Department of Public Safety) for review and appropriate administrative action.
As an employee, do I have to quit smoking?
The university cannot compel you to quit smoking, but you may not smoke on university property. However, if you are interested in quitting, a number of resources are available to help you quit. These include:
The Student Health Services

 

Office of Wellness and Health Promotion Services, which offers smoking cessation programs
1-800-QUIT-NOW, which offers self-help information and one, 20-minute cessation counseling session
smokefree.gov/smokefreetxt, a mobile text messaging service that provides encouragement, advice, and tips to smokers who want to quit tobacco use
smokefree.gov, which offers an app to assist with smoking cessation and other resources